---
---
CHALLENGE YOURSELVES IN THE BACKCOUNTRY WITH THE NEW 129 FR. DESIGNED WITH A FANATICAL ATTENTION TO DETAIL, THE YETI 129 FR IS THE LIGHTEST, TOUGHEST, MOST RESPONSIVE SYSTEM THAT GIVES YOU THE AGILITY YOU'RE LOOKING FOR IN THE POWDER.
The new YETI 129 FR using pure carbon fibre strategically reinforced with aircraft grade aluminum. With a shorter track, the Yeti 129 FR sheds weight, not strength. Its new drive sprocket design produces less rolling resistance with lower track tension to maximize horsepower output where the rubber meets the snow. Limitless potential to ride and rip it in open meadows, carve through tight tree lines and climb steep hills.
A 12.5-inch wide track on 5.5-inch narrow rail chassis gives riders more track floatation with the agile feel of a narrower system.

2.5-inch paddles for bringing better lift and traction in deep snow.

Optimized internal/external sprockets allow lower track tension for increased grip even in the deepest snow.

A stronger chassis with local reinforcement to dissipate the stress under high load.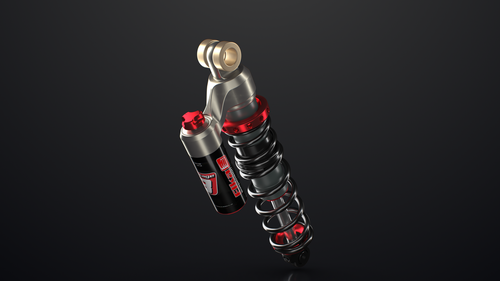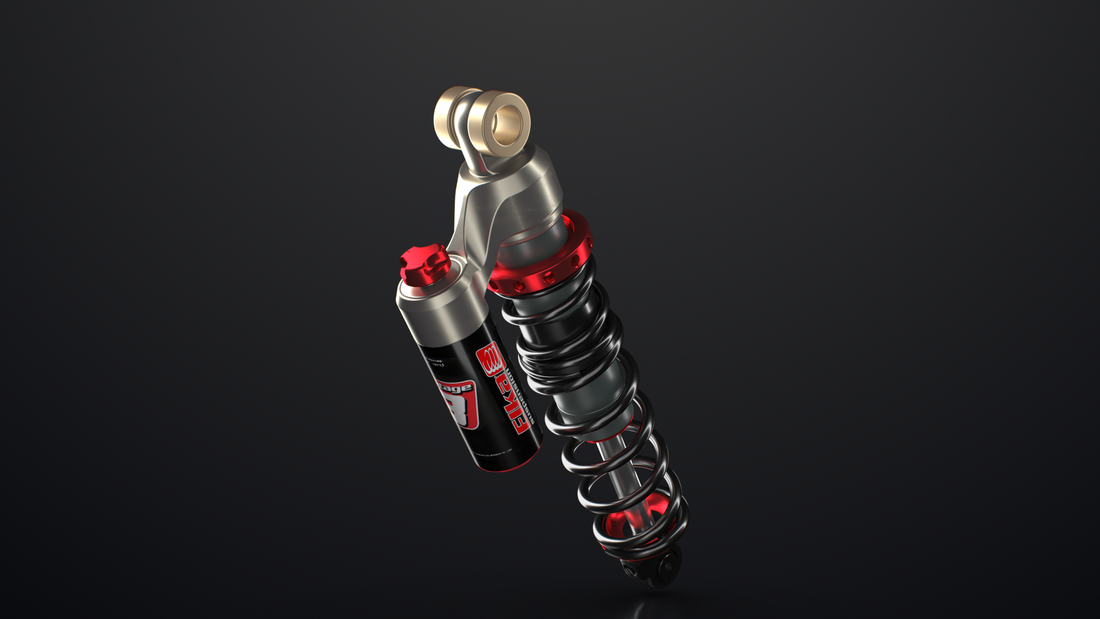 Allows low speed compression adjustment to adapt different types of riders.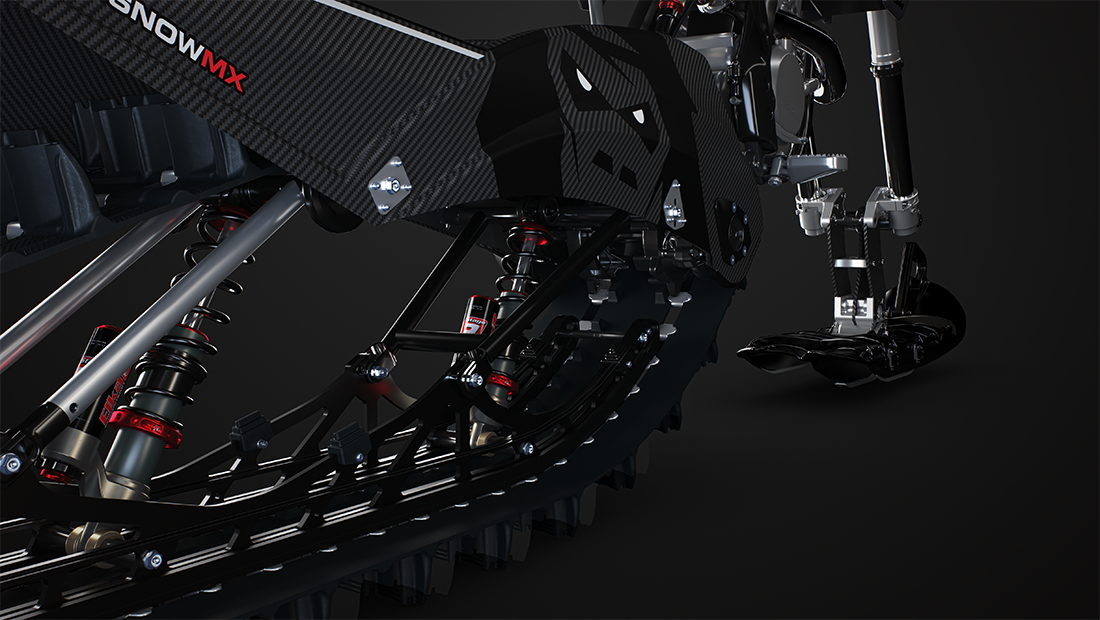 Higher load capacity at lower track tension to avoid ice buildup.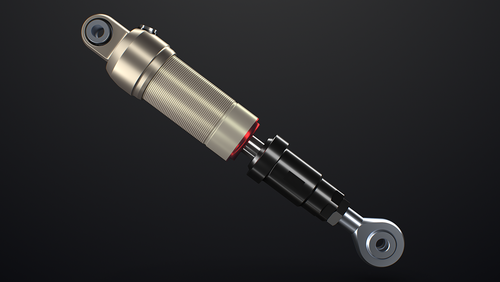 An industry first "SOFT STRUT" providing 1/2'' of movement adding compliance under heavy load without affecting deep snow performance.
DUAL-PISTON CALIPER BRAKES
HAYES pre-bleed brake system to ensure ideal brake performance.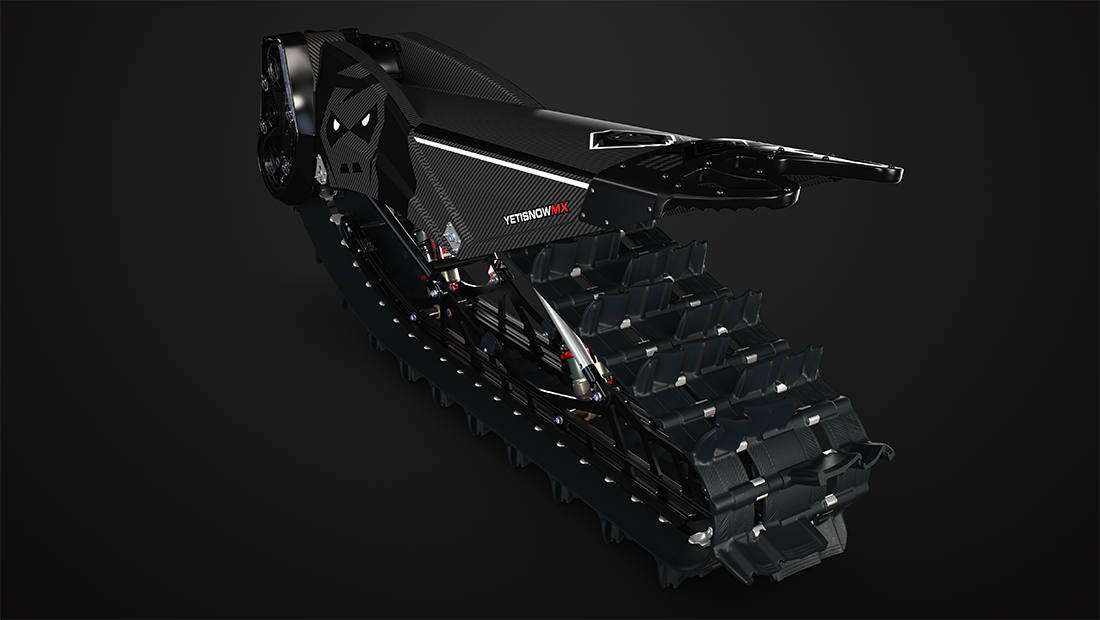 Lightweight 129-inch track, 12.5 inches wide and deep 2.5 inch lugs.
Comes from the factory with a 11mm master cylinder calibrated with brake caliper. Progressive and smooth brake feel. Reduced installation time without bleeding needed!
Estimated Dry Weight-Front
Estimated Dry Weight-Rear
Carbon Fibre/NEW Clear gel coat
Automatic Chain Tensioner
NEW Hayes V32 - Dual Piston Caliper, sheilded rotor with anti-rattle pad clip
NEW Hayes pre-bled, Right Hand, 11mm piston
Syncrodrive, Belt drive system
Mitsuboshi 28 mm Width/896 mm length
DID520VOX 60 or 62 Link (master link)
1 1/16" Hex, Titanium, 7 tooth Anti-ratchet sprocket
Upper Syncrodrive Belt Drive Gear
Lower Syncrodrive Belt Gear
Titanium, Anodized Aluminum & Stainless Steel
Powder Coated Steel w/ STRENX reinforcements
Parabolic design, 20" Radius
---